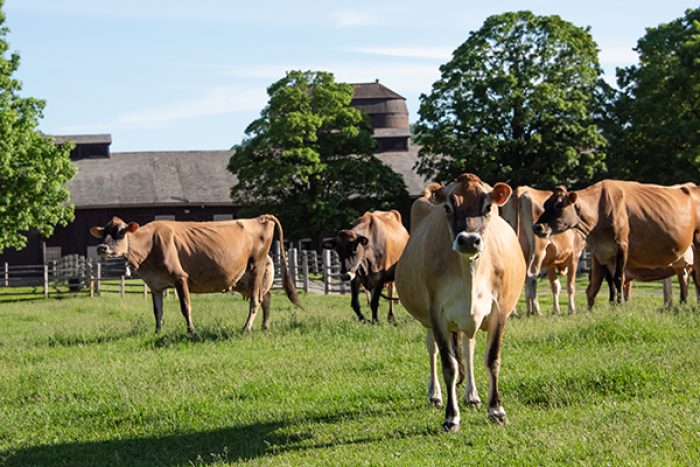 Billings Farm & Museum is a scenic stroll from the village center of charming Woodstock, Vermont. This historic Jersey dairy farm and museum, which is open to the public, showcases Vermont's rural culture, past and present, through seasonal and farm events, camps, workshops, and unique after-hours experiences. Visit with your group, and be part of the Billings Farm & Museum story.
View farm life exhibits and the innovative 1890 Farm Manager's House. Meet the farm's cows, draft horses, sheep, goats, and chickens. Wander through the beautiful Farmstead Gardens and Sunflower House in summertime. Taste delicious ice cream, snacks, and lunch at the Farmhouse Scoop Shop and Billings Food Truck. Explore the Museum Gift Shop for local treasures and delicious Billings Farm Cheese.
Groups should allocate 1.5-2 hours for this experience.
Group Policies & Rates: 2023 rates: $12.50 per person available to motorcoach and organizational groups of 15 or more, with confirmed reservations. Admission includes a self-guided tour of the site. Upon arrival the tour group leader should have the following information ready for the onsite coordinator: total number of people in the group entering the site, the total fee, or invoice information.
Motorcoach Parking Information: Bus driver should pull up to the front of the Billings Farm & Museum Visitor Center. A Billings Farm & Museum staff member will meet your group. Bus parking is available across the street from our main lot in the auxiliary lot.
Dates of Operation: Open April-February
Highlighted Group Experience: There is a menu of optional add-ons that complement a self-guided group visit to Billings Farm & Museum. They include site rentals, food and beverages, and hands-on activities. To add food or rental options to your reservation, please email their group tour contact at least 14 days prior to your arrival date. To add an activity, please do so at least 30 days in advance.