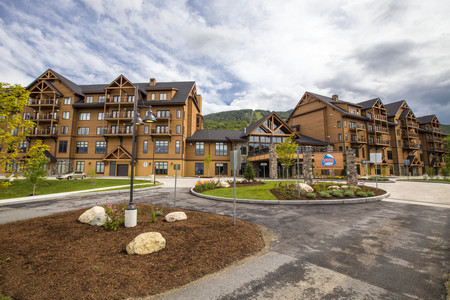 Burke Mountain Hotel & Conference Center
Burke Mountain Hotel & Conference Center
Have you ever seen the sun from East Bowl in the morning? Or touched the icy waters of Lake Willoughby? Have you biked down Mountain Road at first light? Or heard the brooks roaring in the spring? If you've done any of this, you'll get it. If you've never been here, maybe you never will.
This four-season adventure hub provides endless outdoor adventures as well as exquisite indoor amenities to enjoy. Your groups are invited to experience East Burke, Vermont. One of the greatest gifts of the Northeast Kingdom is natural beauty and infinite opportunity for experience. Whether you like the outdoors or indoors, winter, summer, spring, or fall, knowledgeable staff can point you in the right direction. From skiing their 50 trails and glades, mountain biking over 100 miles of trails on or around Burke Mountain, hiking Mt. Pisgah, snowshoeing, paddling, swim-holing, paragliding – well, you get the point. There are a million little experiences to be had here in the Last Little Corner of Vermont.
Group Policies & Rates: Call for pricing, rates change seasonally.
Motorcoach Parking Information: Ample motorcoach parking available.