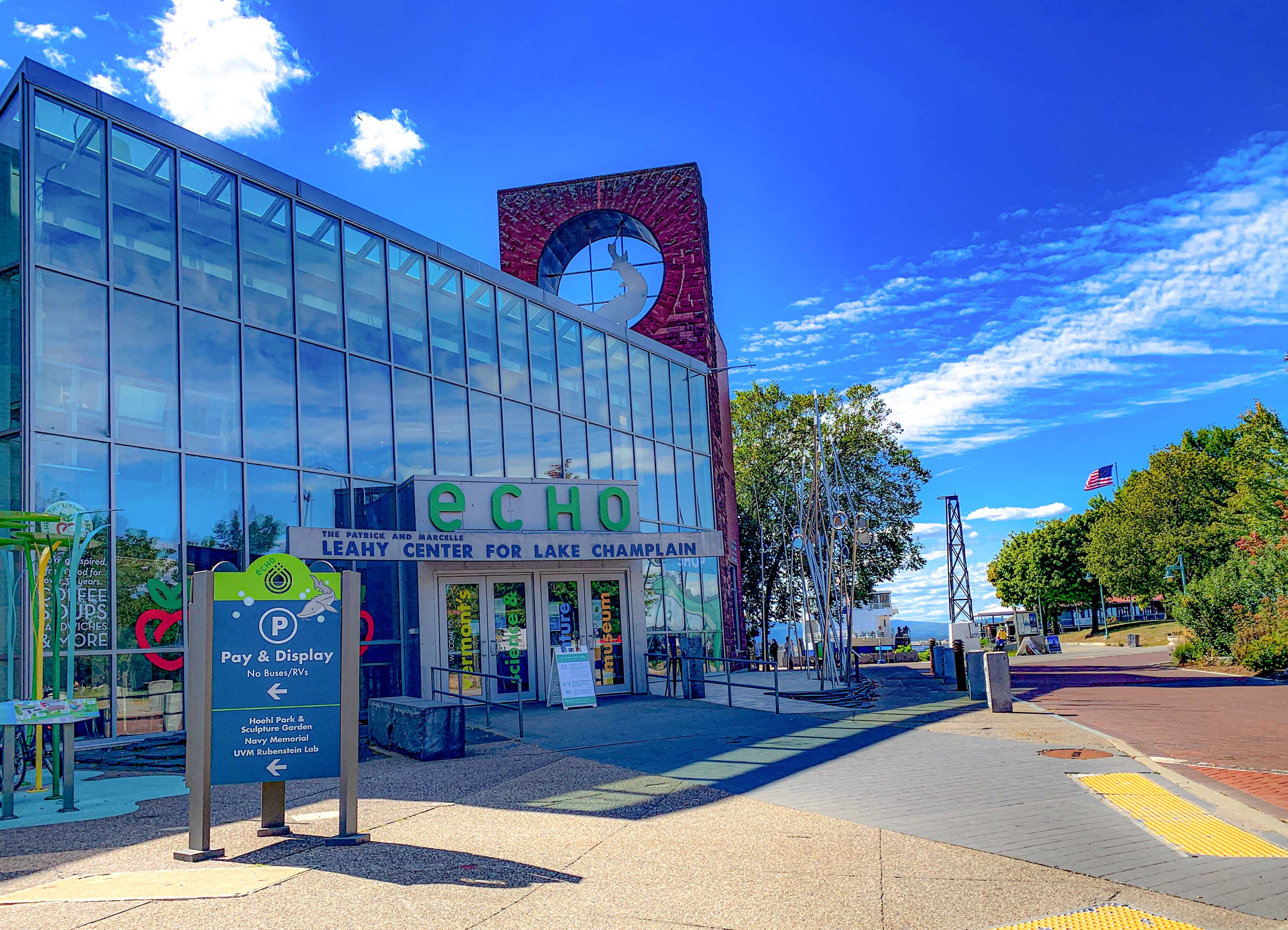 ECHO Leahy Center for Lake Champlain
ECHO Leahy Center for Lake Champlain
ECHO is Vermont's science and nature museum on the Burlington waterfront and is open daily. The museum's mission is to inspire and engage families in the joy of scientific discovery, the wonder of nature, and care of Lake Champlain. Discover over 100 interactive family experiences, 70 live species of fish, reptiles, and amphibians, changing exhibits, and their Northfield Savings Bank 3D Theater. Stop in for science play with climbing, splashing, and veterinary role playing in Champ Lane, ECHO's Early Learning Exhibit. Check out ECHO's highly interactive science exhibits, Awesome Forces and Engineer It. Visitors of all ages tackle daily engineering challenges at their tinkering bench as well as delight in discovering the amazing processes that have shaped the Lake Champlain Basin. Watch water freeze, enter a tornado's vortex, and test aerodynamics. Also shop the Museum Store for toys, apparel, science kits, and products that celebrate Vermont's very own lake monster, Champ.
Groups should allocate 2 hours for this experience.
Group Policies & Rates: 10+ guests, $8.00/youth (ages 3-17), and $10.00/adult (ages 18+). One complimentary adult admission for every five youth guests. Add a movie for $3.00 per person.
Motorcoach Parking Information: Busses should unload at the Information Booth, located at the Pease Parking Lot. Bus access to this lot is off Lake Street.
Highlighted Group Experience: Discover what goes on behind the scenes in the world of animal care at ECHO. The Animal Care team is excited to offer personal hands-on animal tours to guests. Learn about the work that goes into maintaining the health of the animals and the quality of their habitats. With seven different options to choose from, pick the tour that most suits your interests or do them all. Tours must be booked at least one week in advance.