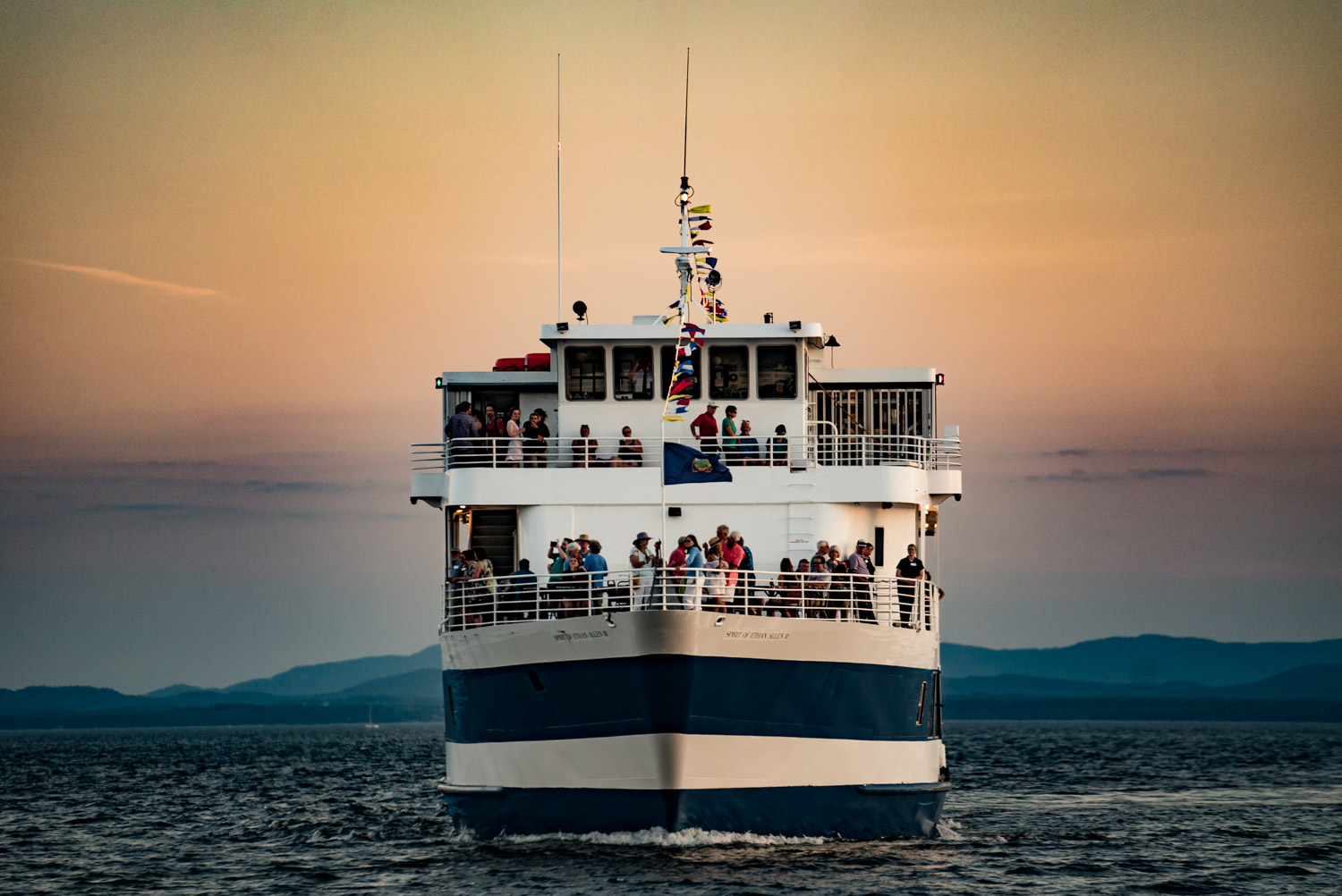 A Burlington "Must Do!" Enjoy panoramic views of Lake Champlain, plus delicious food and beverage. The triple deck luxury cruise ship offers daily scenic, lunch, brunch, and nightly themed dinner cruises seven days a week. The Scenic Narrated Cruise will fascinate travelers with history, geology, and wildlife. Their Executive Chef prepares fresh entrées, buffets, and snack bar items from the galley onboard. Enjoy the Lunch on the Lake Cruise featuring a delicious buffet while listening to the narration, or sip champagne on the popular Champagne on Champlain Brunch. Themed dinner cruises include an exciting lineup of Sounds of Summer, Moonlight in Vermont, Lobstah on the Lake, and Captain's Dinner Dance. Enjoy a spring or fall cruise with live entertainment, the Springtime Dinner, and the Harvest Moon Dinner. Both with delicious buffets to match the beautiful Vermont seasons. Dining decks are enclosed, heated, and air conditioned. 
Group Policies & Rates: Reservations required. Driver and escort complimentary. Rates are inclusive of taxes, fees, and gratuity. Inclusive rates apply to groups 20+. Handicapped-accessible. U.S. Coast Guard certified vessel. Please call to confirm all rates and cruise schedule. Scenic Cruise $28.95; Lunch Cruise $36.95; Brunch Cruise $41.95; Dinner Cruises $52.95 or $57.95.
Motorcoach Parking Information: Motorcoach parking available.Please visit www.soea.com/bus-parking/ for more information.
Dates of Operation: April - October
Group Amenities: Coffee, tea, and sweetened iced tea are included on all dining cruises. Driver and escort complimentary.